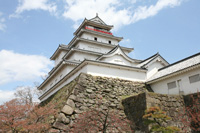 Fukushima is located in the north-east region of Japan and is approximately 200km, 100min. by express train from Tokyo. It is called the "Kingdom of Choirs" in Japan, which has a big population of music fans and award-winning choirs. Along with its unique music friendly culture, there you can find abundant natural beauty and traditional samurai culture, which is still being handed down over the generations. You can enjoy renowned hot spring resorts and historical samurai sites before/after the competition. All true music lovers looking to experience the real Japan are welcome to Fukushima.

Thanks to the support and encouragement from all over the world, Japan has steadily recovered since the Great East Japan Earthquake in 2011. The Fukushima Vocal Ensemble Competition has also received hundreds of messages to encourage people in Fukushima. We will never forget the warm and heart-felt moments that we have shared with participants of the competition.
Now we are sure music has the power to get people together and bring about hope and encouragement. The Fukushima Vocal Ensemble Competition will keep going on to convey the joy of singing together.